The proposed cycle of Polish language lessons devoted to desert and wilderness is connected with the novel of Henryk Sienkiewicz, a board game, and an online knowledge platform.
The cycle consists of four lessons closely connected with the novel, consistent with the binding curriculum for classes 4–6, and discussing the motives and themes present in Henryk Sienkiewicz's novel.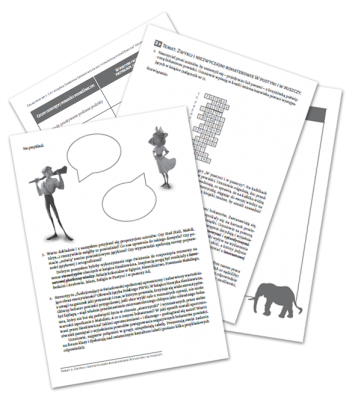 Suggested topics of the lessons:
The adventure is only beginning
The ordinary and the extraordinary – heroes of In Desert and Wilderness.
Nel – chief explorer of Africa.
Boredom or stimulation of the imagination? Reading books.
The guidelines are the work of Biserka Čejović, a practitioner teacher of the Polish language at a primary school, and collaborator with the Polish Institute of Educational Studies (IBE). The suggestions were consulted with Dr Witold Bobiński, who we hereby thank for his assistance and valuable remarks.
Download educational materials (in Polish language only)
Teachers interested in using the guidelines and accompanying materials are requested to fill in the form. The guidelines will be sent to the email address submitted.
Should you want to submit your own proposals for lessons making use of the board game and online knowledge platform, please contact.
Agencja Promocyjna OKO Iwona Haberny
Bluszczowa 11
30-439 Kraków, Poland
tel.: +48 12 267 27 57
iwona@haberny.pl
www.agencjaoko.pl