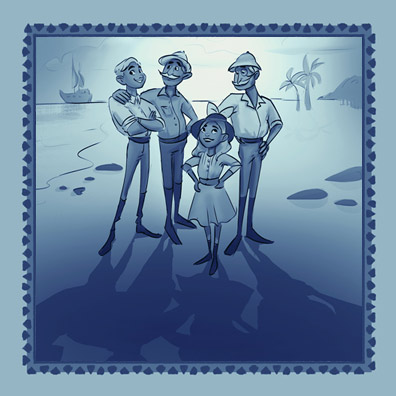 Many years later, Staś and Nel decided to follow the road they had covered as children once again. The period, which amounted to more than a decade, that had passed from their departure from Port Said had brought many changes. Mahdi's country, that is the land he had captured, had been reclaimed by the British. This time, the young Tarkowskis did not have to travel on camel or horseback. A newly built railway line connected Port Said to Khartoum. Having taken it, Staś and Nel went further up the Nile, up to Lake Victoria on a steamship. They left Florence, a city on its banks, by another train, which took them directly to Mombasa.
If we wanted to follow their second expedition, we would encounter a number of problems. The region has changed a great deal since the time when the former English colonies regained independence. We would need appropriate documents, passports and visas to enter certain countries. Not all of the railway lines built by the British are still in operation. Many were closed or fell into ruin and disrepair; African countries, many of which are poor, could not afford their maintenance.
We cannot take a ship from Khartoum to Lake Victoria, as there are no passenger ships serving the connection. The most daring travellers sometimes board commercial barges. Others choose a plane directly to Juba, the capital of South Sudan.
From Juba on Lake Victoria, you can reach Kampala, the capital of Uganda, by bus. Fortunately we can go by ship from Kampala to Kisumu, that is Florence, which Staś and Nel reached from Khartoum. The city is Kenya's largest port on Lake Victoria. The last stage – travelling from Kisumu to Mombasa – is easy: we first catch a train to Nakuru, and from there to Nairobi, the capital of Kenya. Nairobi has a direct train link to Mombasa.
Although it has been over 100 years since Staś and Nel travelled in Africa, it turns out that those who would not like to board a plane, will not find the crossing from Port Said to Mombasa any easier. Africa has remained a wild continent to a large extent, and travelling in it is extremely difficult. If, however, you decide to follow in the footsteps of Staś and Nel, this will most probably be the trip of our life: an unbelievable adventure that you will remember for ever.
What is the current name of the city of Florence described by Henryk Sienkiewicz, and in what state is it situated?
The city lies in Kenya, and it is called Kisumu.
Describe precisely the second journey of Staś and Nel.
From Cairo to Khartoum by train, from Khartoum to Lake Victoria by steamship along the Nile, from the city of Florence by the lake to Mombasa – again by train.
What is the easiest way to get from Khartoum to Juba? In what countries are these cities?
Juba is the capital of South Sudan, and Khartoum, the capital of Sudan. It's easiest to take a plane to travel from one to the other.
How did the adventure end for King?
He remained in Mombasa in the care of the English gentleman.